Eaton 9PX features and benefits
• Reliability: With extended battery runtime options, hot-swappable batteries, internal bypass and optional maintenance bypass, the 9PX maximizes the availability of your IT systems.

• More power: The 9PX allows you to connect more devices by providing up to 28 percent morewattage compared to traditional UPSs.

• Efficiency: The double-conversion online 9PX is the most efficient UPS in its class with up to a 93 percent efficiency rating in normal mode.

• Increased battery life: Eaton® offers ABM® technology that increases battery service life by up to 50 percent. ABM uses a three-stage charging technique and closely monitors battery health to provide advanced notice when batteries need replacement.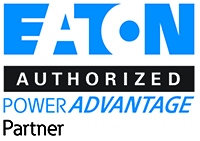 Contact & Support
Please contact
Tim or Chris O'Connell.
We're here to provide support, answer your questions and offer solutions to improve your systems.
Telephone: +1-800-992-2062
FAX: +1-847-301-1798
E-mail: tro555@yahoo.com
HOURS: 9-5 CST