CCT Powertech
IPM & VPM Software
Eaton's Intelligent Power Manager (IPM) software provides the tools needed to monitor and manage power devices in your physical or virtual environment. This innovative software solution ensures system uptime and data integrity by allowing you to remotely monitor, manage and control UPSs and other devices on your network. IPM provides a solution that is easy to use and maintains business continuity..
CALL 1-847.301.6640
Manage and control UPSs and other devices on your network

IPM Software
Intelligent Power Manager (IPM) By integrating the bundled IPM software, you can monitor and manage your network power devices. IPM enables you to:

• Remotely monitor and manage multiple devices across your network from a single interface; this can be integrated into an existing virtualization platform, such as VMware, Microsoft or Citrix



• Suspend non-critical virtual machines, consolidate critical virtual machines and shut down unused servers to extend battery runtime



• Set server power consumption limits for extended battery runtime with UCS management software.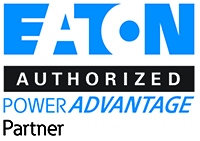 VPM
VPM helps you monitor rack PDUs, supply predefined and custom reports, initiate mass firmware and configuration commands and deliver a visual layout of your data center, making it simple to stay in-tune with trends and identify and resolve any issues.
The comprehensive reporting software saves you time, allowing you to stay on top of power management while focusing on the bigger picture – running your data center.
FEATURES:
Rack PDU management
Up-to-the-minute statistics and reporting provides a quick way to identify potential issues, allowing you to react and take corrective action.
VPM Benefits
Easy-to-deploy User-friendly setup streamlines the deployment process relieving common pain points with software installation.



• Auto discover Eaton Managed, Metered Input and Metered Outlet rack PDUs



• Initiate mass firmware and configuration commands.

With VPM, you receive:
• Real-time reporting to help with billing, PUE and capacity planning



• Increased awareness with reports, trends and dashboards



• Customizable user access (multitenancy)



• Control of rack PDU outlets



• Customer billing/chargeback reports



• View into plug and power capacity, as well as power events



• Ability to load balance the phases and set thresholds for over/under to trigger an alarm



• Predefined trend charts for anomaly identification and analysis Rackbuilder tool Floor layout builder



• Easily monitor your entire data center with the visual display of your floor layout.


• Visually see anomalies on the data center floor



• Health status lights (green, yellow, red)



• Subdivide, group rows and areas of the data center for customized reporting



• Simple to set up via photo import


• Control outlets to turn on, off and reboot hung equipment Rack builder. View the status and equipment in each rack, and safely and effectively deploy new equipment, ensuring each rack is optimized and balanced.

Support
Questions or problems?
CONTACT US
Please contact
Tim or Chris O'Connell

We're here to answer your questions or provide solutions to improve your systems.
Tel:
847-301-6640 Tech, Services
Fax: +1-47.301.6644
Email
Tim O'Connell
Chris O'Connell

HOURS: 9-5 CST
© 2021, All rights reserved