CCT Powertech
ePDU's and RS Rack Enclosures
Eaton has four types of ePDUand Basic, Metered Input, Metered Outlet and Managed. Basic is a cost-effective PDU providing branch circuit protection for all connected equipment in your rack. Slim form and pre-installed mounting buttons ease of set up
CALL 1-847.301.6640

CCT Powertech has over 33 years experience providing energy related services and products to a wide variety of industries and businesses.
About CCT Powertech

RS Racks
Tool-less configuration
To reduce installation time, RS supports tool-less configuration of all key enclosure components, including:
econfigure IT equipment
•Mounting rails and ePDU brackets
•Doors, top panels and side panels
•Cable management and airflow accessories
• No downtime searching for tools to reconfigure IT equipment

ePDU's
• PDU outlets are color coded



• Have a locking mechanism to keep the plug in the outlet. ePDU's Outlets can be monitored



• PDU's can be custom built for you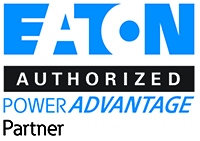 Server Configurations
Frame, rails (flush mount on front), sides, casters, top, full front and split rear doors with key lock swing handle and ePDU mounting brackets.
Available in:
black (B) or white (W).
Height: 42U, 45U, 48U, 52U
Width: 600mm and 800mm
Depth: 1000mm, 1100mm,1200mm

Support
Questions or problems?
CONTACT US
Please contact
Tim or Chris O'Connell

We're here to answer your questions or provide solutions to improve your systems.
Tel:
847-301-6640 Tech, Services
Fax: +1-47.301.6644
Email
Tim O'Connell
Chris O'Connell

HOURS: 9-5 CST
© 2021, All rights reserved